Tena koutou katoa
Ko Ngai Tahu te iwi, me Ingarangi me Kōtirana te whakapaparanga mai
Ko Takitimu te waka
Ko Takitimu nga maunga
Ko Aparima te awa
Ko Te Whanga nui a Tara te whenua tupu
Engari, ko whenua o Wurundjeri Woiworrung o nga tangata Kulin te kāinga
Ko Talitha au
Tena Tatou katoa
That is my mihi in Maori that acknowledges the Maori/English heritage of my mothers line and my fathers' Scottish side.
I'm naming the mountains and rivers of the bottom of the South Island, this story follows the pathway of water from the high ground in the mountains down to the sea, recognising this catchment as ancestors and acknowledging the ancestors of these lands and myself as a visitor here in Wurundjeri country.
I am manuhiri (a guest), ngamatiji (a non-indigenous person) and it's important to me to start from a place of recognising it's not my land or language…
The Maori word for land (whenua) is also the word for placenta.
In both Maori and Wurundjeri Woiworrung deep memory stories – soil was taken and shaped in the figure of a person and divine breath gave earth life in a new form. We are shaped from earth, we are shaped by earth.
With funding made possible by Maribyrnong Arts and Culture, I was able to spend August/Sept undertaking a project called 'Language Lines'.
A particular passion that has arisen from reading Healing Haunted Histories: A settler discipleship of decolonization is to connect more intentionally with my own neighbourhood as a Ngai Tahu/Pakeha settler on the lands of the peoples of the Kulin Nation. A resident of Footscray, I was delighted to discover that the Maribyrnong River's name comes from the Aboriginal term 'Mirrang bamurn', which translates as 'see' a 'ringtail possum' at a time when we had some living in our roof. What other words are in the local landscape that might connect residents more deeply with place?
I am interested in mapping Aboriginal terms that continue to hold space in the land. What do they have to tell us about where we live? Are there words that have been erased that might be recovered? In Maori lore, there is an idea of the 'hidden face', this is similar to the way that you cannot see 'wind' but can see its influence. What might this exploration into the landscape reveal about what is already at work?
It was a continuous thread of my residency to keep updating a map of those places in my neighbourhood that I saw possums and koort boort boort – this allowed for a practice of quite intentional "presence" in my neighbourhood across the weeks. The central image above was submitted as an entry to the 2022 Picturing Footscray Photo Exhibition named: 'Koort Boort Boort consultation' for the conversation happening here between the trees that are local to this place and the new development going up along the riverside. The haunting mist makes it seem as if it is the new development that is disappearing and temporary rather than the trees.
The experience of these 6 weeks allowed for me to explore and play with new skills in eco-printing, pyrography, photography and different forms of weaving. So much of what I thought I'd do, and have to show for this experience, were confounded (and rightly so) by being open to where the investigation led me instead.
There's a lot of stories to that journey, but let me frame them here within this invitation to advocacy…
My exploration of place names in Melbourne as part of my recent art residency helped me understand that there are layers of harmful naming in our landscape: there are names of early settler colonisers and "conquorers", there are names of deceased Aboriginal people which shouldn't be spoken, and then there are words like Maroondah. Maroondah means 'throwing' and/or 'leaves' in Woiwurrung language.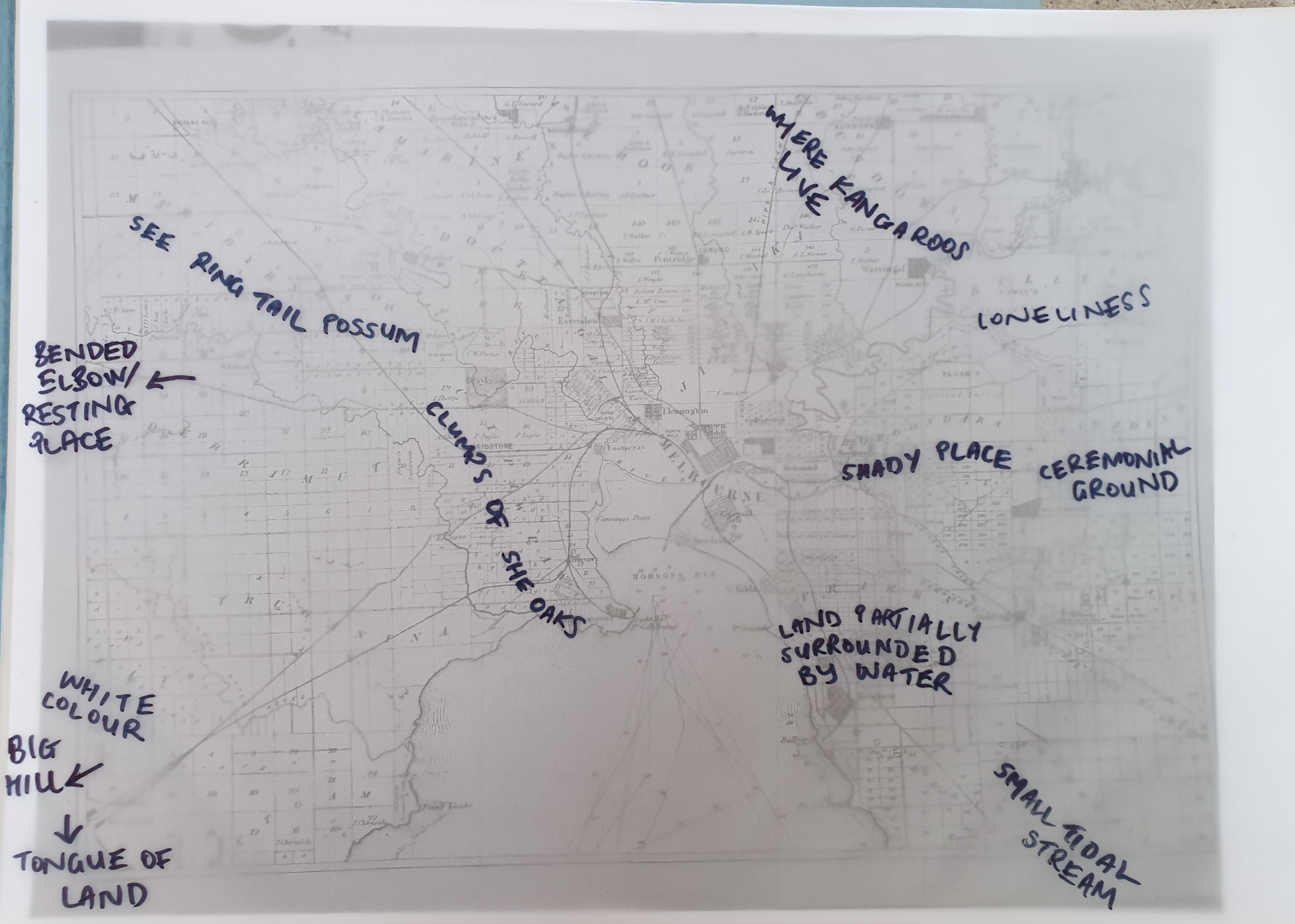 I just signed this petition advocating for the new Maroondah hospital not to be named after Queen Elizabeth II as Dan Andrews is suggesting. What Dan Andrews is missing here, as Victoria (ahem, we've already recognised a Queen) negotiates Treaty, is an opportunity to partner with local elders to reclaim language for a new naming. What words might mean 'healing place'? We as Settlers need to progress on this stuff and not replicate and repeat harms of the past. The link is here if you want to sign the petition.
I would not have learned so much without support and resources from Maribyrnong Arts and Culture, the Footscray, Sunshine, and Braybrook libraries, the Footscray Historical Society, the Living Museum of the West and, most significantly, elder Aunty Faye Muir who encouraged me to wake up at 5am to Listen.